---
---
Map and Directions to Moore Observatory
---
Moore Observatory is a research and teaching facility of the University of Louisville. We are unable to offer public visits, but for more information please contact us by email (see below).
---
If you are coming for a planned observation and unsure about the weather
Check Clear Sky Chart for predicted conditions.
---
The observatory is located in Oldham County near Brownsboro, about 30 minutes from Belknap Campus. Our geographical coordinates are 38 degrees 20 minutes 40 seconds (38.344444) degrees north latitude, 85 degrees 31 minutes 44 seconds (85.528889) west longitude, 229 meters altitude.

The observatory road is accessible at Brownsboro on Kentucky State Road 329. The most direct connection is from Interstate 71, but 329 is also Covered Bridge Road out of Prospect to the north and Crestwood to the south. For group events, carpooling is recommended because the observatory access road is one lane and parking at the observatory is very limited. Please do not park at the neighboring businesses in Brownsboro, or outside the access gate at any time.

From Belknap Campus follow I-65 north to downtown Louisville and pick up I-71 north to Cincinnati. Stay on I-71 to Exit 14, Crestwood, State Road 329. This is the first exit after the Gene Snyder Freeway (I-265).

At the foot of the ramp make a left turn onto 329 toward Brownsboro.

Continue on 329 for about 2 miles. Watch your speed! The road will become 35 MPH soon after you leave the intersection at I-71. It is regularly patrolled, and the limit is rigorously enforced day and night because of fast truck traffic from a nearby quarry. Deer may dart out suddenly at dusk or dawn.

You will pass an entrance to a subdivision on your left. Beyond that, look for a cluster of commercial buildings on the left and an antique store on the right where Old Zaring crosses 329.

Turn left onto Old Zaring at the intersection. It is a single lane public asphalt road that leads to the private observatory road. A automated gate controls access to our road. A keypad is on your left as you approach the gate entering and leaving the observatory.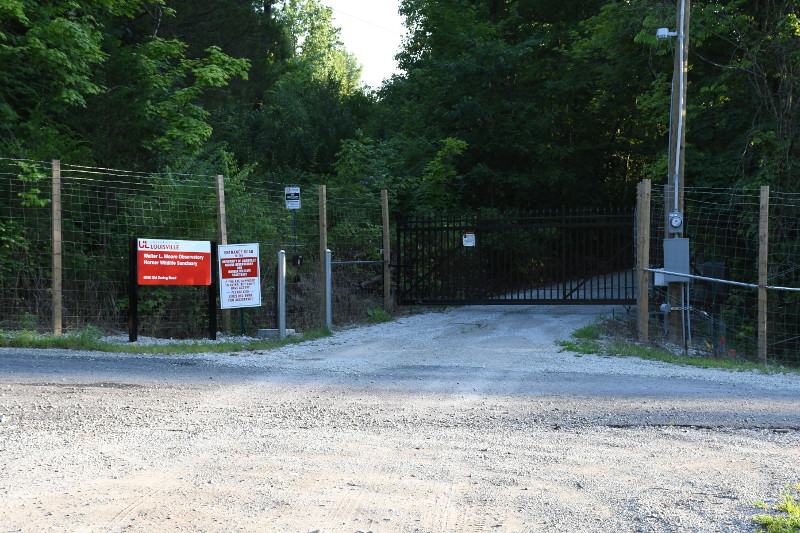 You will have an access code if you are in a class or coming for a planned visit. Enter the code, and once the gate has opened proceed slowly about 2 miles to the observatory. The drive to the telescopes will take about 10 minutes. Watch for wildlife -- deer, racoons, and turkey abound and can suddenly cross your path, and turtles sometimes sun themselves in the road. Parking is never permitted along or on the road at any time, which is bounded by private property until you pass into the Horner Wildlife Sanctuary.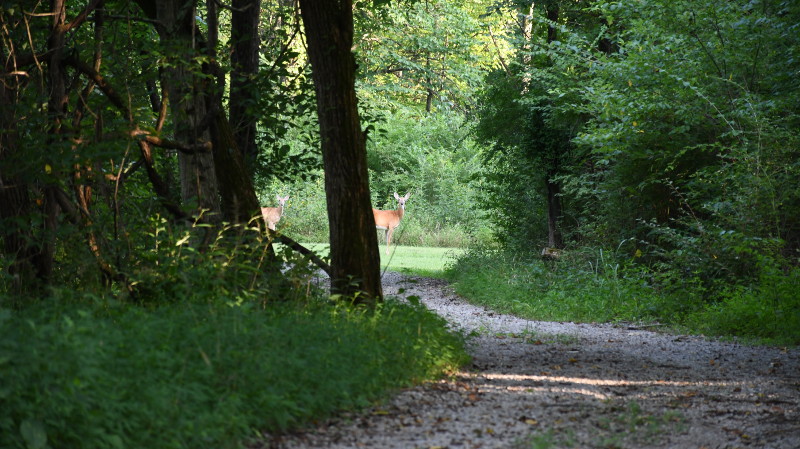 If you get lost, or need an access code, call the observatory through the campus phone (502)-852-5990. In any event, observe the No Trespassing signs and never park by the gate.
If there is an observation or other event with many visitors, we may indicate parking in a grassy field an easy walk from the facility. This leaves space open for handicapped and emergency access close to the building.
---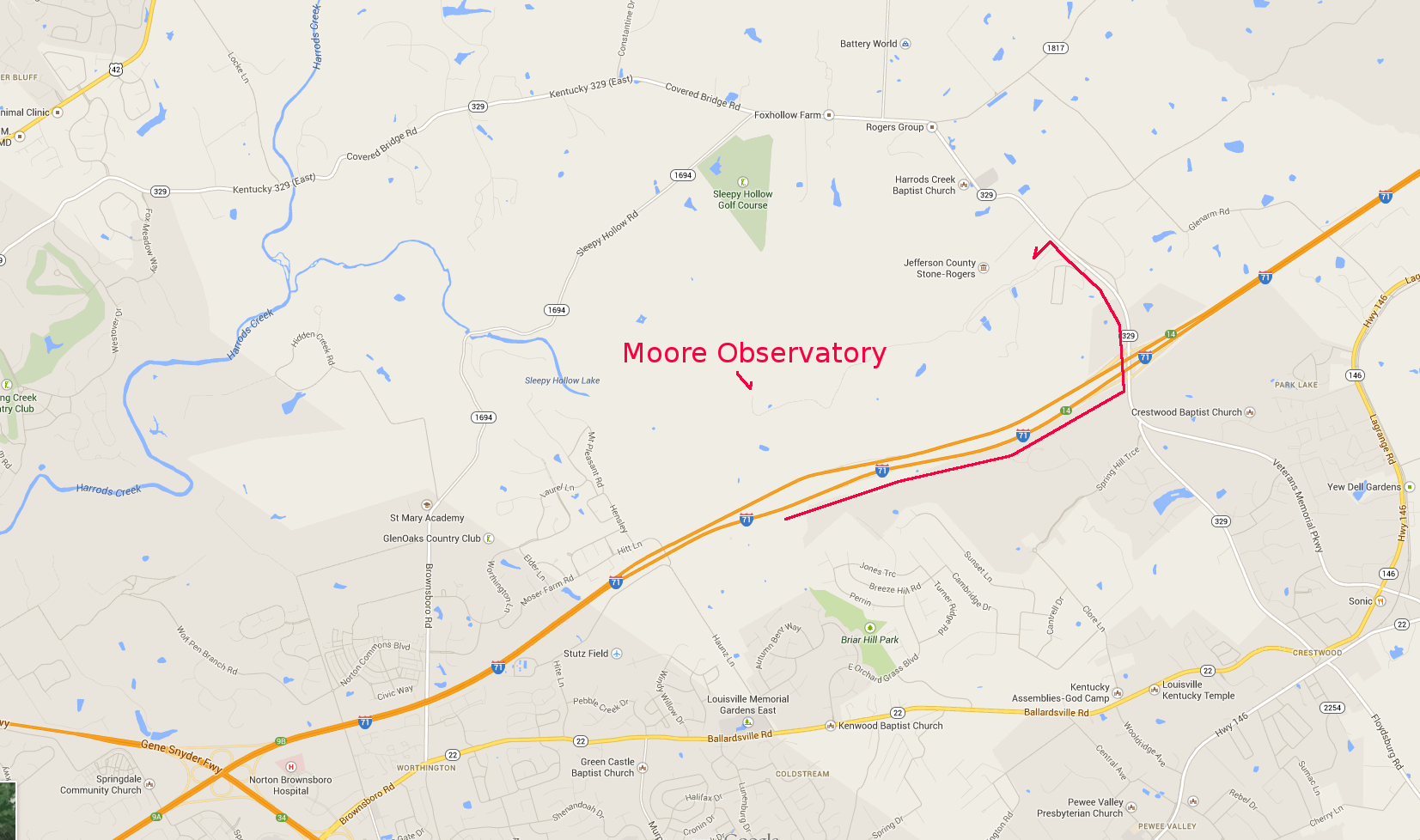 Click to link to Google Maps



Last update: September 10, 2017
kielkopf at louisville dot edu